GRAPHIC DESIGN COMPANY IN BANGLADESH
Protectionserver provides premium quality Graphic Design service in Bangladesh.
Protectionserver's Graphic World is an independent design company and institution. We design the Branding Logo, Professional Graphic Design, InDesign, Motion Graphics, Web Design .We are also expert Adobe Illustrator , Adobe Photoshop, Adobe Lightroom ,Adobe Premiere Pro , Adobe Illustrator CS3-CC Version , Adobe Photoshop CS3-CC Version, Adobe XD CC Version . We design based on the philosophy of making functional , memorable , eye-catching & minimal designs . We have been helping people & any kinds of company to build their brand identities . We have professional graphic designing experience and completed projects to the satisfaction of our clients.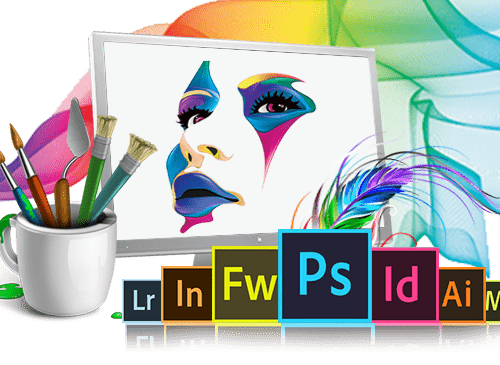 Logo Design
In the present days of corporate culture the term 'Logo' sounds like the most loved-one for the commercial enterprises, corporate actors, and any type of business organizations. And nothing makes a business look more credible than professionally designed logos. A Logo is usually referred to a graphic symbol or emblem to aid and promote instant public recognition. A company's logo is now often synonymous with its trademark and brand or corporate identity.
Numerous Market Researches have revealed that Logo Design is the 'magic wand' of success story of the giant companies in the world. Logo design is the nuts and bolts for corporate identity/stationary design, brand identity as well as brand promotion. Creativity and idea is essential for your perfect corporate identity design, not always the money. Simplicity often comes up with overwhelming feedback from the target people. Just take a look around the logos of world's giant corporations and enterprises and you will be sure to comply with me.
Protectionserver is world class pre-press Graphics Design company to provide you "simply the best" Logo Design for your company to place your company among the front liners. Protectionserver is a fully internet based Image Editing and Graphics Design outsourcing company in Bangladesh. We provide turnkey logos in the vector formats. Protectionserver uses latest software (Adobe Photoshop, Illustrator, InDesign and Quarks Express) to perform professional Logo design service. The pros of Protectionserver has 10 years of professional expertise in accomplishing  the finest Logo  Design service  with 100% quality, fast turnaround time and very competitive price.
We excel @ Logo Design because of:
We provide logo design to help create a positive first but lasting impression on your clients.

Protectionserver offers you custom logo design service that rightfully represents your brand.
Protectionserver will deliver 3 to 5 top quality, professional logo design mocks for your review. Because we value client's satisfaction as our utmost capital.
Protectionserver has 60+ self-styled and talented Graphics Designers working round-the-clock.

Various package systems are included in our service

We deliver the complete turnkey before the deadline

Logo Design by Protectionserver is the most cost-effective and affordable price but no compromise with quality
Protectionserver delivers professional logos artwork in 2 or 3 vector formats such as AI, PDF, EPS, DWG, DXF. Raster formats are also available in high resolution formats as per client's order.
Protectionserver is a Logo design company which believes in action, not just words. Protectionserver has grown up No #1 Logo Design outsourcing Company in the Indian Subcontinent. We are pro business/company logo designer mainly from North America and Europe.
Turnaround Time
Our standard turnaround time is 24 hours. But faster service is possible as per client's requisite. The turnaround time depends on the volume and complicity of the job.
Hey..
I'm MD JAMAL HOSSAIN, I'm a Professional Graphic Designer with over +4 years experience on specially Logo Design ,Business Card, Banner & Flyer Design. Also PHOTOSHOP EXPERTS. I design based on the philosophy of making functional, memorable, eye-catching and minimal designs. I've been helping people to build their brand identities for more than 4 years and counting .Having professional graphic designing experience and completed projects to the satisfaction of my clients. Now I am offering my skills and talent to the Fiverr to provide better services and enhance good reputation by following .
Personal Facebook LINK